Advantages of Metal to Metal Seal
Metal to metal sealing provides the highest integrity sealing solution for today's DHP (copper tube made from Alloy C12200) and unitary equipment installations. Metal ferrules are the best possible material to replace traditional brazing because of its ability to create a permanent long lasting seal. Advantages of metal to metal sealing technology are its ability to hold the highest pressure rating, stability in both high and low temperatures, safe with all refrigerants, and boasts a zero annual leakage rate.
Burst Pressures: ¼":9700 psi to ⅞" 4800 psi

Working Pressures: ¼": 1700 psi to ⅞": 960 psi

Holds Vacuum: 1 micron

Annual Leakage Rate: 0 ounce

Temperature Range: -40F to 392F

Compatible Refrigerant Gas: ALL Gasses

Compressor Oil: Yes, safe

Warranty: 25 years

Permissible for Unrounded Tube: Yes, will not effect seal

Scratched Tube: Yes, will not effect seal

Deburring: Not Required
Labor Cost and Time Savings with SmartLock Fittings
Compared to traditional flaring or brazing, SmartLock fittings take more than half the amount of time and labor cost to complete the same job! The time savings just get better because compared to brazing, SmartLock fittings take 90% less time and labor to complete compared to traditional brazing!
It's easy to see why more contractors and distributors are choosing SmartLock fittings for their day-to-day operations. It saves your business tons of money and allows your team to accomplish more in less time. So why wait, contact us today to start saving time and money with SmartLock fittings.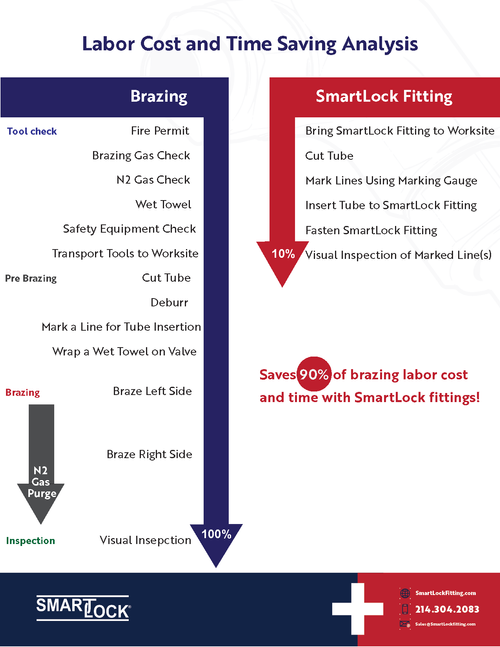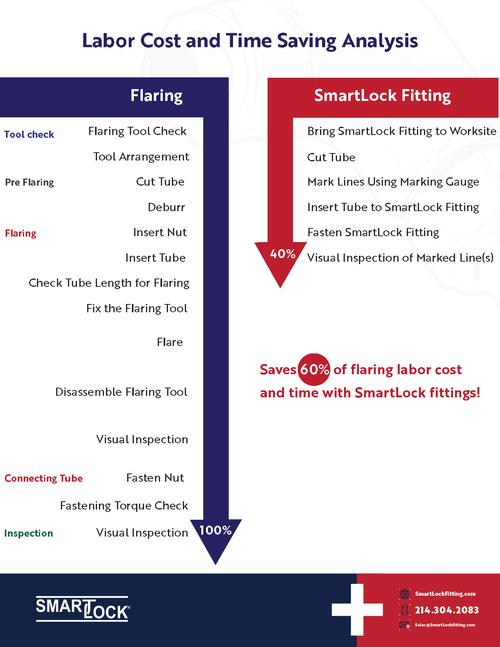 Brazing vs. SmartLock Fittings
Flaring vs. SmartLock Fittings